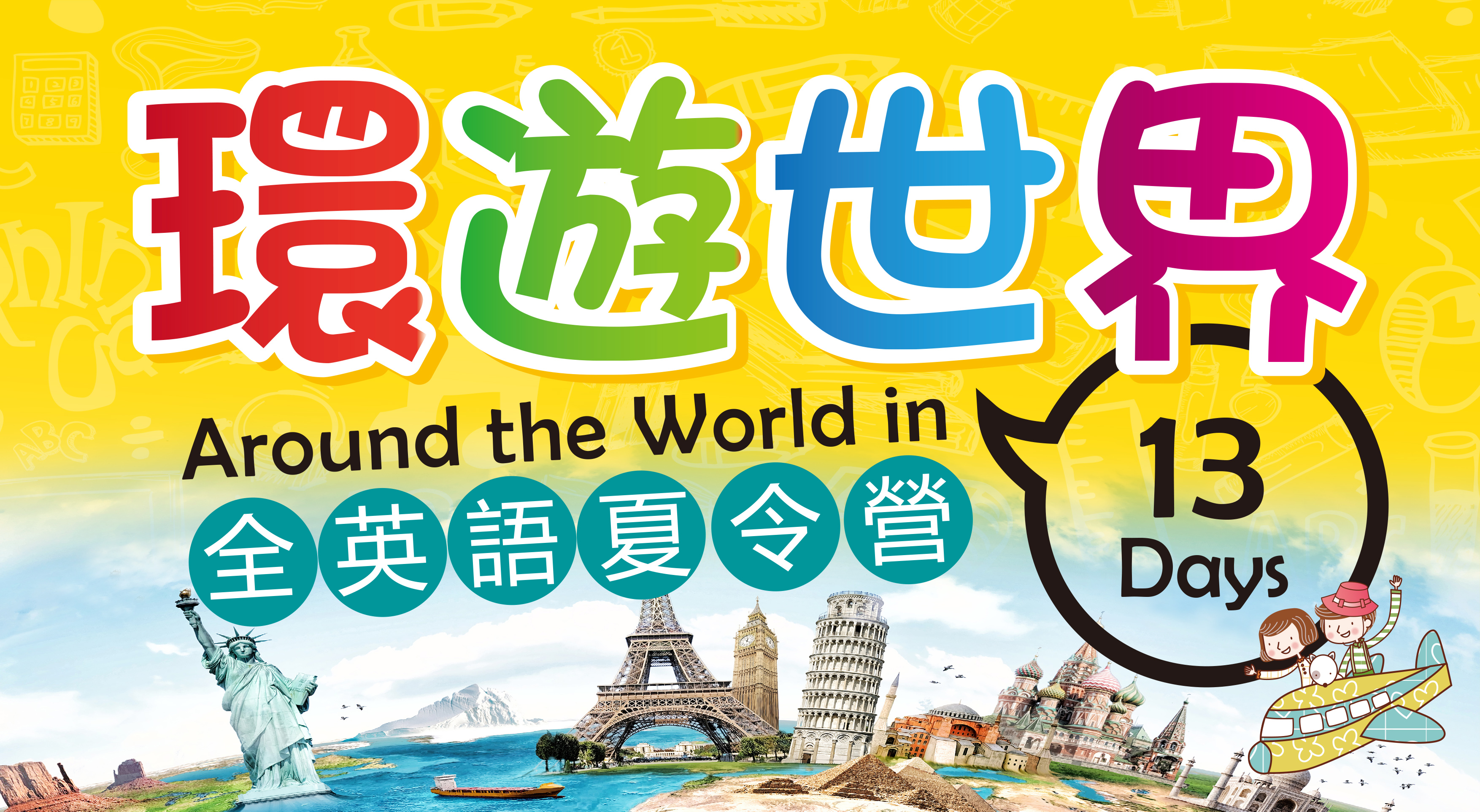 UEIS Summer/Winter Camps
A special North American style summer/winter camp designed specifically for none UEIS high school students.
UEIS prepares North America style English summer/winter camp study programs for juniors and teens ages 10-16 (grade 4 to grade 10). Students who haven't reached the age of entering UEIS can take the North American English class and join the extracurricular activities during the summer vacation.
活動安排
The participants will have the opportunity to study English in a friendly and safe campus environment. In addition they can enjoy a wide a range of fun activities.
Group placement is based on age and English proficiency.
Every year, more than one hundred students from all over Taiwan participate in the summer and winter camps of UEIS.
We combine English Language learning and life skills workshops so that campers can enjoy the summer/winter by improving their skills and developing both personally and socially.
Meet other teenagers from around the island, and enjoy communicating in English with new friends.
Package Includes: 師資介紹
UEIS-奧德賽主題式全英語營隊課程
English Courses

There are always native speakers in our English programs. They actively work with campers in classrooms or in outdoor areas. The goal of the courses is to help campers be able to spontaneously react and speak, improving their active perception of the language and pronunciation.

15-20 students per class
Thematic English Course-graded teaching and intensive instruction
The professional foreign teachers of United Education International School will teach in person.
Practical English conversation in a daily life environment for students to speak English and improve listening, speaking, reading, and writing skills.
15-20 hours of English class every week

Scientific Exploration

The implementations of hands-on experiments help develop students' scientific knowledge and skills in a constructivist learning environment.

Formatting a Stage-Play Script

This program offers a wide variety of studio practices to develop drama skills, and demonstrate creativity and innovation. These classes will be led by specialized instructors.

Entertainment

A healthy mind is integral for a healthy body. Coached by professional trainers, campers enjoy sports activities and games to meet physical fitness requirements.

Life Consulting

With a focus on building self-autonomy among our camp participants, our team is committed to working alongside our campers to reach the goal of living and working with a self-management style.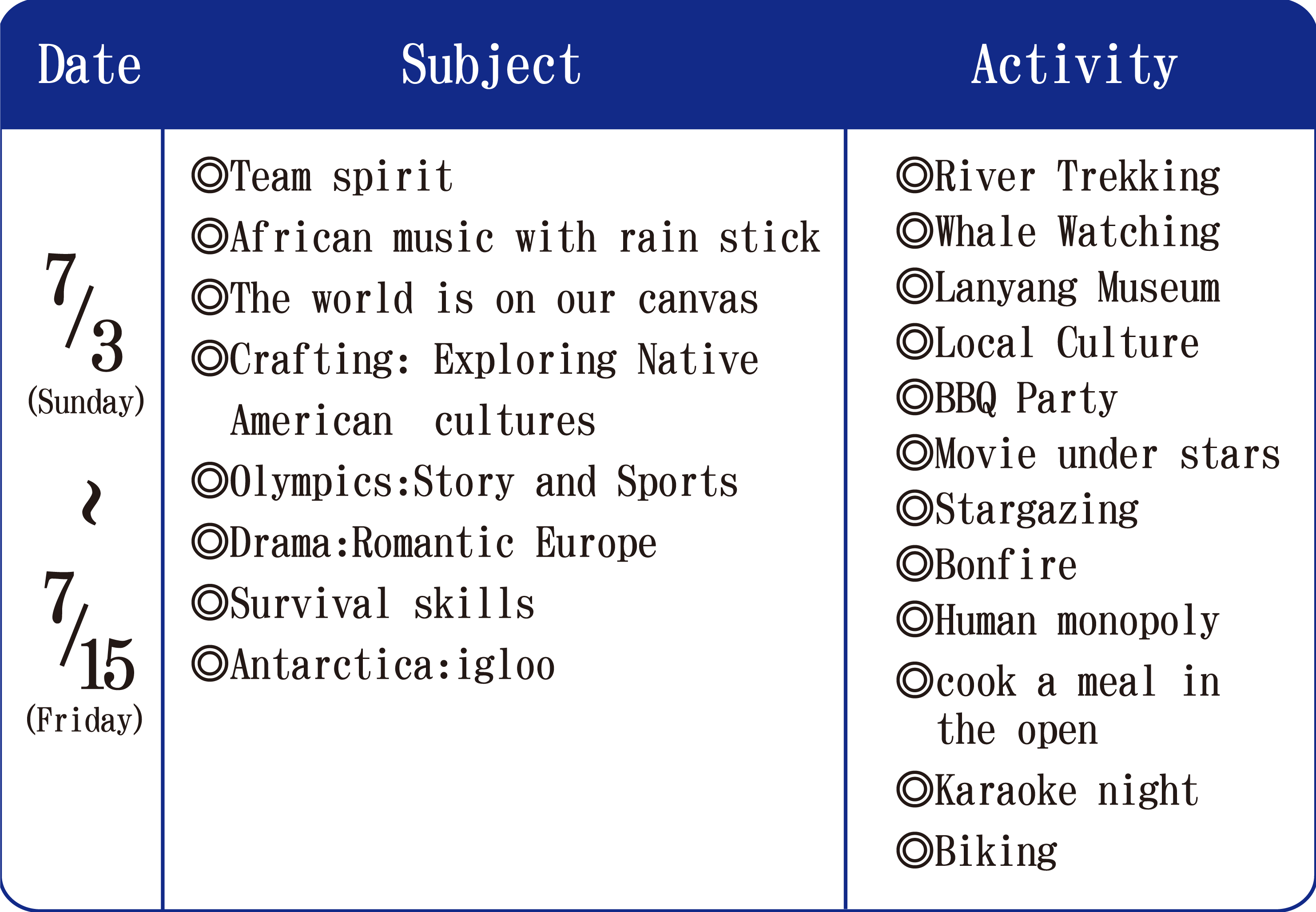 Accommodations校園美景
Our residence is safe, comfortable, tidy and well organized.
Cozy double studios with independent AC and full facilities. Furthermore the rooms are constructed to allow plenty of natural sunlight to shine through the rooms.
All residence hall access areas have 24-hour locks. 24-hour video surveillance and security alert is set to keep the dorms safe.
Each room is equipped with a private wet and dry zones bathroom.
Superintendents live in the residence to take direct care of campers.
Dining
A five-star hotel executive chef provides nutrient-rich and delectable meals. The daily menus are specially designed to meet student demand, including special diets.
Regular checks on hygiene standards and disinfection in the kitchen, cafeteria, and the kitchenware are conducted.
Processed food is prohibited in the kitchen. Only organic vegetables and fruits are provided.
Food quality has been strictly enforced. Ingredients, oil, and even suppliers are under rigid supervision.
Unhealthy cooking such as frying is avoided. Trans fatty acid free vegetable oil is selected and no processed food will be served.
Nutritious, Hygienic, Abundant
Evening Activities
Students are arranged to join all kinds of leisure or outdoor activities in the evening from Monday to Friday.
Presentation
The closing ceremony and presentation are held at the end of the summer camp, and a certificate of completion is given to participants.
The fees include:
Certificate: United Education International School Summer Camp Certificate of Completion
Course: Tuition, registration fee, and material fee for the thematic English course in the morning
Activities: Outdoor teaching in the afternoon and group activities in the evening
Meals: Three meals a day are provided.
Accommodation: Accommodation fee during the camp
Insurance: Safety insurance, accident and health insurance, school medical insurance
※The fees do not include: personal expenses (such as drinks, store purchases)
日期
7/03(日) ~ 7/15(五)

對象
適合國小五年級至高中一年級

費用
營隊每人$39800元,團體3人以上即可
享有團體優惠請來電洽詢。
早鳥優惠價(03/31前報名)
優惠每人 $37000元
歡迎上網報名或來電洽詢
0800-820-000

※Please register for the camp online or via fax and complete the payment within three working days after registration.
Payment Information:
Account Name: United International Education Foundation
Bank: Shin Kong Commercial Bank (Bank Code 103)
Branch: Jian Cheng Branch
Account:0301-10-100401-3
Please fax the payment receipt to 02-2370-0079 or send a photo via Line to LINE ID: @303rmkro.
Consultation Phone Number: 02-2370-0199
Note: The organizer reserves the right to interpret or change the above information.